The day we've been waiting for.
Can you believe it? We're geared up to kick off the FIFTH CONSECUTIVE SUMMER of the Makossa Brooklyn Cookout. And we couldn't be any more excited. Make your way over to Brooklyn Tap House on the afternoon of Saturday, May 24 for another classic day of beats, BBQ and booze. 

And most importantly, make sure to RSVP via SplashThat! Once the venue starts getting close to capacity, we'll be only admitting guests that are on our list. We want to make sure this season's #MakossaBK is roomy and comfortable for all that are willing to join us.

MAKOSSA BROOKLYN COOKOUT (Season 5 Opener)
Saturday, May 24, 2013 | 2-10pm | FREE
Memorial Day Weekend!

music by residents
DJ WONWAY POSIBUL (Latin Soul Brothers / ThinkBeat Radio - SF)
DJ TARA (Rare Form - NYC)
DJ SHINOBI SHAW (Rare Form - NYC)

with special guests
DJ HAYLOW (Distortion 2 Static - SF)
PURE P (GAMM - Stockholm, Sweden)

special guest host
MIKE BAKER THE BIKE MAKER (HNRL)

Offical photos by
DeMATO PHOTOGRAPHY
(https://www.facebook.com/DeMatoPhoto)

www.twitter.com/MakossaBK
www.twitter.com/LatinSoulBros
www.twitter.com/fresthetic
www.twitter.com/RareFormNYC

2014 marks the Makossa Brooklyn Cookout entering its fIfth consecutive summer. Still considered one of the best outdoor summer soirees in Brooklyn, DJ Wonway Posibul of Latin Soul Brothers fame brings his famous Makossa sound from San Francisco to NYC to create a bi-coastal vibe like none other. The monthly summer cookouts have garnered a loyal following, a multitude of acclaim and success since its birthplace, the backyard of Fresthetic, a boutique / gallery in Williamsburg, Brooklyn.

Resident DJs
Wonway Posibul
Latin Soul Brothers
 ThinkBeat Radio - SF
MAKOSSA
DJ SHINOBI SHAW
Rare Form - NYC
This Saturday (5/24) at @BrooklynTapHouse, is the first #MakossaBK of the year!! @wonwayposibul @djtaranyc @djshinobishaw along with special guests @pure_p & @haylow__ will be providing the audible enjoyment and vibes. I'll be your host. And even though I'm not as young as I am on this flyer, I'm still a pretty cool kid so I won't let y'all down. We're going from 2p-10p, so come thru and let's kick this season off in proper fashion! RSVP: makossabk524.splashthat.com
Here... We... Go... #uptopar audio is setup, @brooklyntaphouse got grills firing up. #MakossaBK Season 5 is ready to kickoff. 2pm -10pm FREE. Early arrival strongly suggested!
BK! TODAY! @makossabk #makossabk
Our official Season 5 promo video, shot by @DJTVShow. Expect just as many smiles this summer, if not more. #MakossaBK Check out the whole video on or Facebook page
RT @mkbkrthebkmkr: TODAY! @wonway @PureP @Haylow @djtara & @DJShinobiShaw supplying slaps at @BkTapHouse #MakossaBK http://t.co/Hx3WxdmW86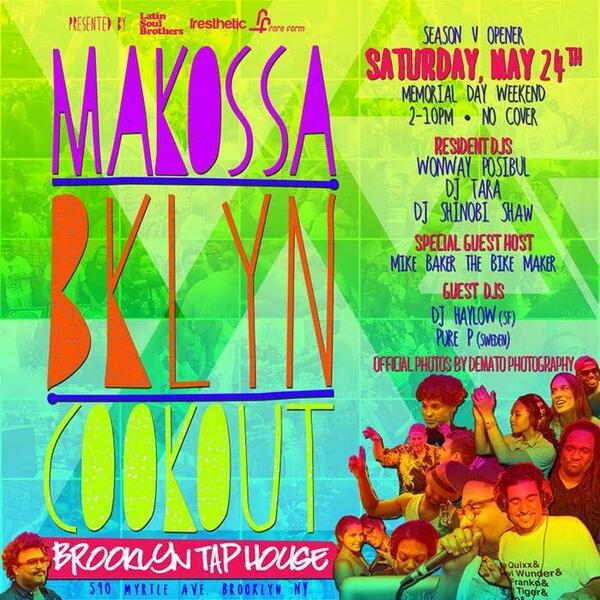 You know what time it is? Check out the @makossabk schedule this summer! #makossabk @rareformnyc @latinsoulbrothers @brooklyntaphouse
Everyone and they Momma is coming to @makossabk! Including mine! #makossabk
#makossabk @stefcollazo
@djtaranyc #makossabk
Proper respect to our homies at #MakossaBK helping us kick off Memorial Day Weekend off right! #Brooklyn
#MakossaBK Game on #RainOrShine #SummerHere
#makossabk
@megansegarra #makossabk
My current situation! #makossabk #bbq #brooklyntaphouse #happypeople #happygirl #brooklyn #spreadlove #blessedandhighlyfavored
#makossabk @tlynnfaz @livefromphilly
@trackademicks @bikemaker #makossabk
#makossabk @conscioushustler @wonwayposibul
#makossabk @wonwayposibul
#makossabk We got dominoes!
Makossa DJs sing too #makossabk
Infamous packed event pic..... #makossabk 🙌🙌🙌🙌🙌🙌
#makossabk
#makossabk
@wonwayposibul with the rain set #makossabk
Rain or shine #makossabk
LIVE! #makossabk
Didddledeeeee! #Peace #Brooklyn #Makossabk #brooklyntaphouse #brooklynwegohard #brooklyn #spreadlove #blessedandhighlyfavored #highonlife #gemini #awesomesauce #summeroftlayne #freespirit
#makossabk 😝
@desusnice!!!!! #makossabk @makossabk
Dis shit don't stop. #makossabk @makossabk
#makossabk Let me stop before I get in trouble for posting too many photos back to back.
Getting in on @makossabk #makossabk
BBQ @makossabk #makossabk
@geetabee @DJShinobiShaw #makossabk
Who let the thugs in? Real goons dance under water and don't get wet. #makossabk
#makossa #makossabk Always a good time!
#vscocam #makossabk means the beginning of summer #brooklyn
Before the rain #makossacookout
@djtaranyc controlling the weather #makossabk
The calm before the storm #makossabk #bienconectao #playableart
We ain't too cool for the rain! We dance in the rain! It's all love#makossabk #makossa2014 @wonwayposibul
it's lit! #MakossaBK http://t.co/MTr7sCXUIx
These guys! @haylow__ @wonwayposibul #makossabk
Despite the rain #weouthere. #makossabk #thatwetlook #rippedjeans #ootd
#MakossaBK means the summer has started @conscioushustler this is a ZOO
Only a real nucca could cop a feel ..
Makossa Brooklyn Cookout WSG DJ Haylow and Pure P